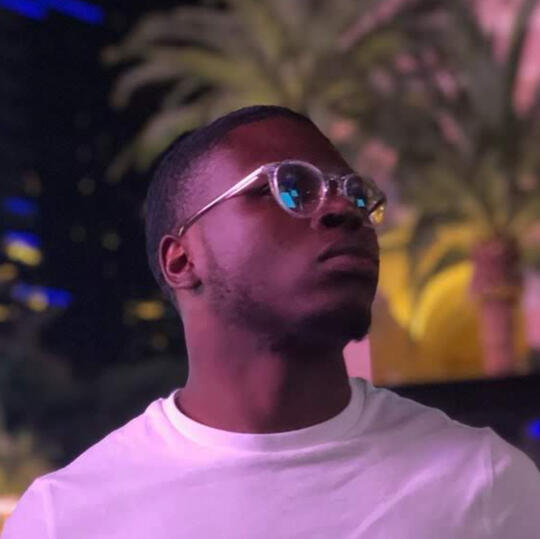 Isaac Akanmu
---
Writer
Writing
Poetry Collections
- not belonging anywhere, Bottlecap Press, 2022
Selected Poems
- the news called our baby brother a man last night, Alternating Current Press, forthcoming
- three poems, The Hellebore, 2023
- starbury, Jellyfish Review, 2022
- comic relief, Ekstasis Magazine, 2022
- raptors, Olney Magazine, 2022[1]
- three poems, Posit Journal, 2022
- cavaliers, cool rock repository, 2022
- spongebob's golden shovel, OROTONE Journal, 2022
- snakeskin boots, Rejection Letters, 2022
- fall collection, Ekstasis Magazine, 2022
- fur mink, Ekstasis Magazine, 2022
- mavericks, Lammergeier Magazine, 2021
- HOME, Encounters Magazine, 2019
- four poems, Encounters Magazine, Spring 2019[1]
- One Day, Encounters Magazine, Fall 2018[1][1] print only
About
Isaac Akanmu is a Nigerian American from Staten Island, NY. Now living in Charlotte, NC, Isaac is the winner of the 2023 Charlotte GoodLit Fellowship. His poetry chapbook, not belonging anywhere, is available with Bottlecap Press (2022). His words also appear in Jellyfish Review, Posit Journal, Olney Magazine, and more. Connect with Isaac on Instagram and Twitter (@insteadofisaac).
Press
- Laureate Workshop Series - Workshop Leader, Charlotte Poet Laureate, 2023
- Charlotte GoodLit Fellowship - Winner, Charlotte Lit, Goodyear Arts, West Trade Review, and the Charlotte Poet Laureate, Jay Ward, 2023
- Light Bill Incubator Microgrant - Finalist, Sundress Publications, 2023
Contact
Feel free to contact me with business inquiries, questions, comments, concerns, or simply to chat.