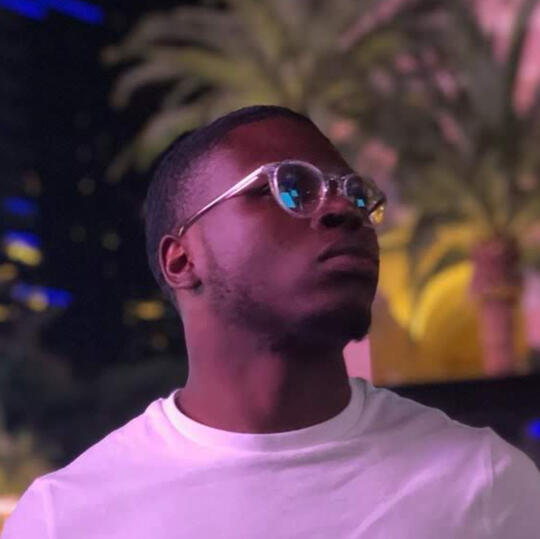 Isaac Akanmu
---
Writer & more
Writing
Chapbooks
- not belonging anywhere, Bottlecap Press, 2022
Selected Poems
- the news called our baby brother a man last night, Alternating Current Press, forthcoming
- starbury, Jellyfish Review, forthcoming
- raptors, Olney Magazine, 2022[1]
- three poems, Posit Journal, 2022
- cavaliers, cool rock repository, 2022
- spongebob's golden shovel, OROTONE Journal, 2022
- snakeskin boots, Rejection Letters, 2022
- fall collection, Ekstasis Magazine, 2022
- fur mink, Ekstasis Magazine, 2022
- mavericks, Lammergeier Magazine, 2021
- HOME, Encounters Magazine, 2019
- four poems, Encounters Magazine, Spring 2019[1]
- One Day, Encounters Magazine, Fall 2018[1][1] print only
---
Other Writing Samples
Emerging Technologies Writing Assignment | Graduate Level
- Assignment: Conduct research and write a 1-page single-spaced report on an emerging data and technology topic.
- Link: Dark Data: The Batman of Business
---
E-Business Strategy and Innovation | Graduate Level
- Assignment: In a semester-long project with 3 or 4 classmates, create a business from concept through to strategy, financials, branding, and marketing.
- Role: Ideated, Wrote, Edited original ad campaign.
- Link: Aida Ad Campaign
- Final Result:
---
Baruch Leadership Academy | Social Media Announcement
- Task: In response to the coronavirus pandemic, write and design an official social media notice announcing the cancellation of the summer program.
- Role: Wrote, Designed.
- Final Result:
---
Business Policy | Case Analyses
- Assignment: Case analyses should be written in essay style, should not exceed three pages of material, and should answer the following questions: (a) What are some of the important issues confronting the company that is in the primary subject of the case? (b) How might external developments or the company's own actions have been responsible for these issues (do try and relate to the concepts and frameworks covered in the course till date)? (c) If you were the CEO, what courses of action would you pursue to address each issue? Using material from the course, explain how you would implement these, how they would address each issue, and what potential risks may exist.
- Links: Champions of Entertainment: WWE Case Analysis + Are We Still Loving It: McDonald's Case Analysis + Economic, Political, and Cultural Issues Surrounding Heineken: Heineken Case Analysis
---
Critical Approaches to Film: Asian American Film and Media
- Assignment: Write a 6-page analytical paper on a specific film selected in collaboration with the instructor. An "excellent" paper deeply engages scholarship in Asian American film/media studies, contains strong argumentation and analysis, and meets good standards of organization, prose quality, formatting, and attention to detail, plus has added style.
- Link: The Siblinghood of Asian and African Americans in Gook
---
Television in London | Study Abroad Course
- Assignment: In one week, create a short documentary with your randomly assigned film crew.
- Role: Wrote Script.
- Link: London Street Performers | Documentary Script
- Final Result:
Film
Selected Poetry Films
Objective: Beyond simply adding visuals to words, the objective of these films was to fuse poetry and filmmaking to create an impact unachievable by the mediums alone.
Role: Wrote, Directed, Filmed, Edited.
Tools: Final Cut Pro X, HitFilm Express, Sony a6000, Free Stock Footage.
---
Aida | "We Know" Ad Campaign
Objective: Aida is a fictitious company created in a graduate-level E-Business Strategy and Innovation course. Aida's mission is to empower adults with learning and attention issues through reading and writing assistance and support. The objective of the ad campaign was to drive home the brand's personality of empowerment, empathy, and creativity in our final presentation.
Role: Ideated, Wrote, Edited.
Tools: Final Cut Pro X, Free Stock Footage.
---
Baruch Leadership Academy | Social Media Marketing
Objective: Baruch Leadership Academy is a pre-professional summer program for high school students in the heart of New York City. While working in the Baruch College Admissions Office, I was tasked with generating excitement and encouraging applications for the upcoming Academy class.
Role: Directed, Filmed, Edited.
Tools: Final Cut Pro X, Sony a6000, Previously Recorded Footage.
---
Goke Food Pantry | Informational Video
Objective: The mission of the Goke Food Pantry (GFP) is to ensure that the hungry in our community have easy access to nutritious meals for a better, healthier life. As GFP was recreating their website, I was commissioned to create a video describing the pantry's history, mission, and vision for its about page.
Role: Filmed, Edited.
Tools: Final Cut Pro X, Sony a6000.
---
NABA - Baruch Chapter | Black & Co. Documentary
Objective: The National Association of Black Accountants Baruch College Chapter (NABA) is a student organization dedicated to bridging the opportunity gap for Black accounting and finance professionals at the university level. In conjunction with the event's theme, I was trusted to create a video celebrating and supporting Black-owned businesses at the organization's annual Alumni Dinner.
Role: Directed, Filmed, Edited.
Tools: Final Cut Pro X, Sony a6000.
---
Abe Akanmu | Personal Branding Videos
Objective: As the go-to video creator for Abe, the objective is to capture events and the professionalism of his brand by editing already captured video or delivering a project from start to finish. More video edits are available on Abe's Instagram profile and YouTube channel.
Role: Filmed, Edited.
Tools: Final Cut Pro X, Sony a6000, Cell Phone Camera.
About
Isaac Akanmu is a Nigerian American from Staten Island, NY. He is the author of not belonging anywhere (Bottlecap Press, 2022), his debut poetry chapbook. Isaac's poetry appears in Posit Journal, cool rock repository, Rejection Letters, and more. His poetry films have appeared at the 12th Annual CUNY Film Festival and on BronxNet television. He lives in Charlotte, NC. Find Isaac on Instagram and Twitter (@insteadofisaac).